Gallery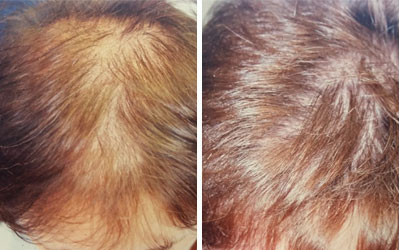 Before starting treatment with Minoxidil, my hair had gone very thin and my scalp was very visible throughout the top of my head.
After about eight months, it was obvious my hair was improving and I have had considerable regrowth. I have now been using Minoxidil for several years and my growth has maintained really well. I do not worry about my hair anymore and I am more confident.
Diane, Wrexham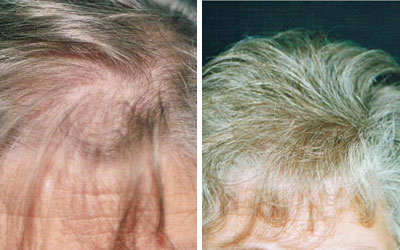 When I found out my hair thinning was genetic I thought there was nothing I could do and was extremely upset.
However, I received professional advice and started topical Minoxidil in 2003. Before getting my improvement, I did not want to socialise, never went to the hairdressers due to embarrassment etc. All that has changed and I never think about the problem anymore.
Marlene, Warrington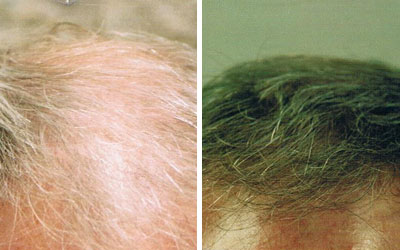 When I was 44 and a father to toddler twins, I thought my hair loss was probably stress induced. I had the typical male pattern balding and I was getting thinner by the month so decided to be proactive and started treatment with topical Minoxidil and Propecia.
I had considerable improvement in my hair growth and coverage which has maintained to this day - I'm delighted with the results!
Hugh, Wirral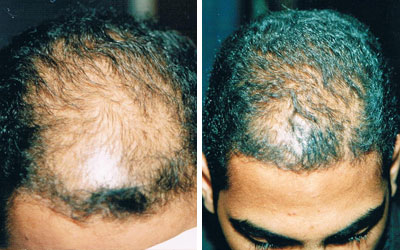 I started to notice hair thinning in my late teenage years and by the time I was twenty two, I had gone very thin on the top of my head. Most of my uncles and my father had gone bald before they were thirty and so I knew what was going to happen to me.
Christine recommended a tablet called Propecia and a lotion called minoxidil. After eight months there was sign of improvement which has continued to get better. My hair will never go back to what it was but I am much happier and people would not think I had male pattern hair loss now.
Tariq, Liverpool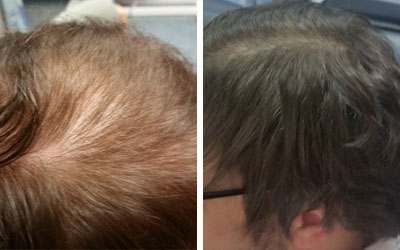 Whilst understanding how completely natural male pattern baldness is, for me , it was causing a negative impact on my personal life, and wanted to see if there was an affordable option available to maintain and potential re-grow the hair I had. I was aware I was losing my hair for years prior to visiting the centre.
After my first visit I felt much more comfortable and better about the situation. I first noticed change about 10 months after beginning treatment. Now 16 or so months after my first visit I have definitely seen positive results.
Chad, North Wales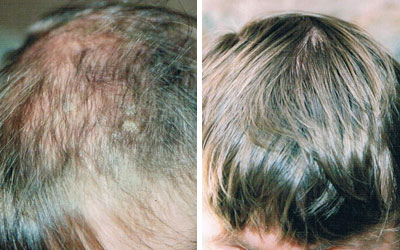 In my 30's I suffered from losing clumps of hair with a scaly scalp. Washing my hair was depressing and nothing I tried improved matters. I didn't want to go out and found it very debilitating.
Christine was able to use appropriate ointments and not only help my scalp/hair improve but also to boost my confidence. The improvement was amazing - my hair fully grew back and has remained healthy.
I can honestly say that if I hadn't found Christine I don't where I would have turned. She restored me to my former happy self and I can't say a big enough thank you.
Stephanie, Wirral